The Game-changers for the Caribbean Blue Economy
The Blue Economy – the sustainable use of oceans for economic growth – is finding its feet in the Caribbean. The region is taking steps towards a robust regional Blue Economy, with incremental policy change in several countries and ?locally developed technologies? that are setting the stage for future growth.
The change is slow but steady. New finance tools such as blue bonds – along with a growing pool of international environment funds – can bring much-needed capital and widen the pipeline for projects. But, hurdles remain. Ultimately, the success of the Blue Economy lies in the hands of regional policymakers and the public sector. So, who can the Caribbean look to as they map their own Blue Economy future? Who is making the best case for the Blue Economy right now?
In advance of ?BEC 2019?, we spoke with global leaders to get different perspectives on a single question: ?Who is doing the most innovative work in the Blue Economy space right now, and how are they making it happen?
Dr. Justin Ram, Director of Economics, Caribbean Development Bank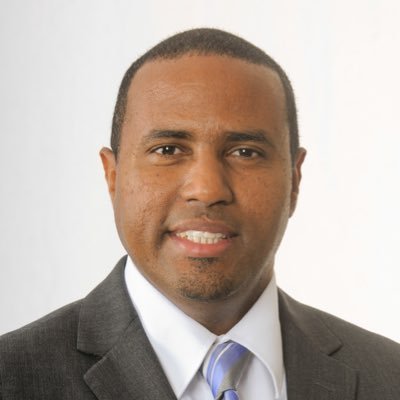 I think there are a few countries that are doing some interesting work in the Blue Economy. First of all, Barbados, because they are perhaps the first country in the world to have a Ministry of Maritime Affairs and the Blue Economy, so I think that's a really bold statement of intent. The ministry is assiduously working to create a Blue Economy strategy, so they haven't done many concrete things yet. But just having the ministry signals to the world that they are serious about it.
Secondly, I think that the Organisation of Eastern Caribbean States is doing some wonderful work now, where they are currently trying to develop together a green economy and a blue economy strategy—The Green-Blue Economy Strategy and action plan. For the OECS, I think that act is quite groundbreaking because from our perspective at the Caribbean Development Bank, there should not be any division between what goes on in the ocean and on the land. They are connected. The mere fact that they have decided to do this together is a groundbreaking initiative.
Grenada has been in discussions with some international organizations about trying to develop proper financing to support marine protected areas, and I think they have been at the forefront of doing that here in the Caribbean. They have not quite managed to raise a blue bond here yet, but I think it's only a matter of time before some type of financing is put in place to allow them to fund their marine protected areas.
The Prime Minister of Grenada, Dr. The Right Honourable Keith Mitchell, has been a pioneer and a great advocate for the Blue Economy here in the Caribbean. At many international forums, he has advocated for the use of the Blue Economy to help develop Caribbean nations in a sustainable way. A number of pieces of research were commissioned as a direct result of his advocacy and being the Chair of the CDB's Board of Governors back in 2018, including the CDB's research on the Blue Economy, 'Financing the Blue Economy: A Caribbean Development Opportunity?', which was very well received. Dr. Mitchell encouraged us to do research in that area and I think it was a huge success for us. The report led to the Blue Economy Caribbean Day, with the help of New Energy Events and the sponsorship of Canada. At CDB, we are hoping to make the Blue Economy one of the pillars of our upcoming strategic plan for 2020-2024.
Her Excellency Marie Legault, High Commissioner of Canada to Antigua & Barbuda, Barbados, Grenada, Dominica, St.Lucia, St.Kitts & Nevis, and St.Vincent & the Grenadines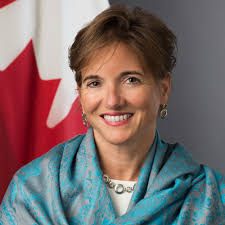 Canada is surrounded by three oceans, so anything having to do with ocean sustainability is incredibly important to us, and we support the development of a Blue Economy. It's about sustainability, but it's also about harnessing everything we can as a source of revenue for communities.
On the policy side, we made it one of our priorities when Canada was hosting G7 leadership, focusing on plastics in oceans. We are a signatory on the ?Oceans Plastics Charter?. Specifically, at the G7 we implemented a blueprint for coastal communities and ocean protection. In this case, we realize we have to look at multinationals and other kinds of actors, otherwise, we won't yield the kind of results we want to yield. So in terms of innovation, we're proud that we put everybody under the same tent at the Sustainable Blue Economy Conference in Kenya, even the Coca-Colas of the world. We wanted to make sure everyone was included in that conference, so we funded SIDS from all over the world. We wanted to make sure that these delegations were inclusive, to ensure everyone was represented.
In terms of our role as a donor in the Caribbean, we are looking at what's being done to protect the oceans, and at the same time keeping the livelihood of the fishing communities who rely on the oceans. So we've been funding different initiatives to make sure we sustain what's being done.
Canada continues to prioritize the Blue Economy, ensuring it is at the center of the discussions more than before. The policy piece is essential because that causes behavioral change. When you ban plastic bags [as several Caribbean countries have done], that's when behaviors change. When a country or government implements a policy to ban single plastic use, it ensures a behavioral change — but it has to be accompanied by public information and education campaigns, as well as measures to facilitate the change, including alternative products at similar costs, and consultation and discussions with stakeholders and private sector.
Whether it's on plastics use or other aspects, tackling policy for Blue Economy is what will move the needle forward.
Joachim Schmillen, Vice President of Global Affairs & Executive Director of the Centre for Blue Economy and Innovation (CBEI), Caribbean Maritime University ?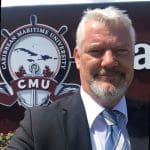 For innovation in different sectors of what we think of as the Blue Economy — marine biotech, marine renewable energy, aquaculture — a lot of innovation is going on at the moment. Barbados is one of the leading voices in the media right now. They have a Ministry for the Blue Economy, and Minister Humphrey is trying to promote this whole idea of "doing". They got the funding for restoration of reefs on the West coast of the island, and funny enough, it's a Jamaican technology (Biorock) they're using.
But we have no consensus about what a Blue Economy is. It shouldn't be a new frontier for economic exploitation. The question is how we can use the ocean in a sustainable way.
That is the most challenging question to answer: What is part of the Blue Economy? We have to discuss what it means. We have traditional, established sectors (like marine transport, fishing or tourism) and also new, emerging areas (like deep-sea mining, marine biotechnology). Therefore, you could define everything somehow connected to the ocean as the Blue Economy.
The challenge is: Every sector is discussing amongst themselves. So, for example, people from marine transport are talking about the future of marine transportation, but they're not communicating with scientists about the ecological impact. That is the problem at the moment—we have to find a place where we can bring the different sectors together, to discuss all aspects and the implications to create a synergy effect.
Hear more from these experts and others working in the Blue Economy space at the ?2nd Blue Economy Caribbean?, October 15 in Miami.
Source: http://newenergyevents.com/caribbean-blue-economy/?utm_source=New+Energy+Events+Contacts&utm_campaign=
---
Category/ies:
Articles
,
Barbados Articles
,
Barbados News
,
Biomass
,
Blue Economy
,
Energy and the Environment
,
Energy for Young Minds
,
News
,
Regional Articles
,
Regional Energy Awareness
,
Regional News
,
Renewable Energy
,
Transition Towards Renewable Energy
.
RSS:
RSS 2.0
Both comments and pings are currently closed.