OAS Supports Talks on Renewable Energy Usage in the Caribbean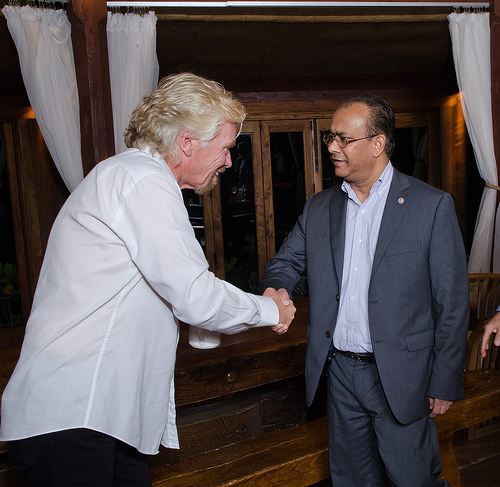 Richard Branson (left) and Albert Ramdin, OAS Assistant Secretary General.

The Assistant Secretary General of the Organization of American States (OAS), Albert Ramdin, met with government officials, private sector leaders and renewable energy experts from around the world this week to promote increased use of renewable energy in the Caribbean.
The meeting on "Creating Climate Wealth" took place on Necker and Moskito Islands, British Virgin Islands, and included the Prime Ministers of Saint Lucia, Saint Kitts and Nevis, as well as government ministers and representatives of Colombia, Saint Vincent and the Grenadines, Dominica, Antigua and Barbuda, the United States Virgin Islands, the British Virgin Islands, Aruba and others.
Organized by President Jose Maria Figueres of Carbon War Room, a nonprofit organization founded by billionaire Richard Branson to fight climate change, and hosted by founder Branson himself, the event focused on concrete initiatives to transition to clean energy usage in key sectors including health care, education and utilities.
In his address to the meeting, Assistant Secretary General Ramdin said, "for the governments, political will, vision and long term commitment will be to key to facilitating lasting change. At the same time, sustainability will depend on citizens understanding the concrete benefits of these projects and feeling a sense of ownership. When they see the benefits like a reduction in their utility costs or a decrease in the price of goods and services through lower energy costs, then change can be lasting."
Ambassador Ramdin concluded his presentation saying, "progress is being made in the Caribbean on this issue. We are seeing it happen in countries, one step at a time. The OAS is committed to supporting this process, and we commend those who have had taken steps in this direction."
For more information, please visit the OAS Website at www.oas.org. 
Source: http://www.thebahamasweekly.com/publish/oas-media-releases/OAS_Supports_Talks_on_Renewable_Energy_Usage_in_the_Caribbean33126.shtml
---
Category/ies:
News
,
Regional News
.
RSS:
RSS 2.0
Both comments and pings are currently closed.