Electric Fencing for Cattle-ranching Business Continues in Camagüey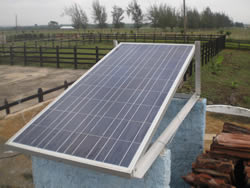 Nearly 800 electric fence systems should be installed before the year's end in Camagüey province as part of the livestock sector recovery program and the effective use of renewable energy sources.
Engineer Casildo Antúnez, who runs the plant that manufactures these fences in Cuba, stated that the product stands out for its low price and for being light and efficient. Besides, he said, they allow farmers to corral the cattle and ensure rotational grazing, for a power consumption of 12 kilowatt-hours a year.    
In Camagüey, 15 percent of the systems will receive energy from photovoltaic solar panels. Generally, electric fencing is 85 percent less expensive than the traditional barbed wire fencing, besides it is more effective and easy to handle, once the livestock-breeder learns how to do it.  
Almost 200 fences have been installed in Camagüey province, mostly in cattle-handling facilities belonging to the Guáimaro-based Empresas Rectángulo (iconic farm in Cuba's cattle-ranching business).   
On the international market, the price of an electric fence system can vary from USD 2,000 up to 6,000, while those manufactured in Cuba might cost from 60 up to 200 Cuban convertible pesos, because the import of some components are minimal. 
Source: http://www.cadenagramonte.cu/english/index.php/show/articles/16141:electric-fencing-for-cattle-ranching-business-continues-in-camaguey
---
Category/ies:
Cuba News
,
News
.
RSS:
RSS 2.0
Both comments and pings are currently closed.