Cuba to Build A Hundred Modern Biogas Plants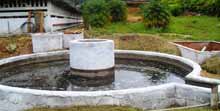 Cuba to Build A Hundred Modern Biogas Plants
[Cuba to Build A Hundred Modern Biogas Plants.] Havana, Cuba, Jan 27.- Cuba will build 100 cutting-edge tubular biogas plants out of PVC in an effort to reduce the negative environmental impact generated by pig manure.
The plants will generate fuel to meet the energy needs of rural areas, thus preventing pathogenic microorganisms contained in animal wastes from contaminating the subsoil and the aquifer.
Roberto Sosa, director of the Biogas Promotion and Development Center of the Pig Research Institute told the press that one of the plants will have the capacity to process the waste of up to 150 pigs and to supply gas to the producer's house and his neighbors.
Sosa said that thanks to a training provided to biogas producers, they are now able to assess microbiological and energetic parameters.
Meanwhile, the director of the Center for the Study of Process Engineering, Ileana Pereda Reyes noted that using the PVC technology will make the plants more resistant to blows or cracking.
The biogas is used for the generation of electricity and gas by using animal, vegetal or human solid wastes. It became popular in Third World countries due to the need to obtain cheap energy for cooking.
At present, biogas is widely employed in industrialize nations such as Germany, Sweden and Italy as an economic and renewable source of energy that reduces carbon dioxide release.
Source: http://bio-gas-plant.blogspot.com/2012/01/biogas-news-cuba-to-build-hundred.html
---
Category/ies:
Cuba News
.
RSS:
RSS 2.0
Both comments and pings are currently closed.