Caribbean Energy Transition in the Spotlight in Martinique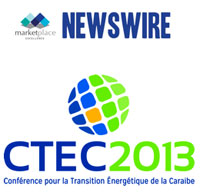 The first Caribbean conference on energy transition (CTEC 2013) held last week in Martinique (October 22 and 23) has been hailed a success.
The two-day conference, at Palais des Congrès de Madiana, focused on establishing regional collaboration through the exchange of experience, policies for the development of renewable energies, the use of public financing (in particular instruments from the European Union), and governance tools.
The high profile event brought together heads of state, ambassadors, experts and delegates from 15 jurisdictions in the Caribbean. Their participation in workshops and plenary sessions was aimed at developing a future regional strategy for energy transition in the Greater Caribbean, including its regulation and financing.
Martinique was able to highlight some of its accomplishments in the field of renewable energy, including positive energy housing, photovoltaic power plants, a waste incineration power producer, biomass-energy and geothermal energy projects.
This first session of the regional conference, organized by the Regional Council of Martinique, provided its President Serge Letchimy with the opportunity to confirm the French Overseas Department's commitment to regional integration.  
 
"The conference has brought positive results for a historical event in Martinique. We are proud to be leading the way in Caribbean energy transition through innovative, new technologies that will be showcased during the next regional conference that will be hosted by Martinique again in 2015," he said.
BACKGROUND – "LA MARTINIQUE, CARREFOUR DE LA CARAÏBE"
'Martinique, at the Crossroads of the Caribbean', is developing new relations with neighbouring countries and territories in the region. After joining the OECS (Organization of Eastern Caribbean States), ECLAC (Economic Commission for Latin America and the Caribbean), negotiations with CARICOM (Caribbean Community) and the ACS (Association of Caribbean States) continue and the French Overseas Department is setting up a network of responsible cooperation within the Caribbean basin.
The geographic proximity, common culture and identity with its neighbouring Caribbean countries and territories represent significant potential for the French Overseas Department's efforts towards boosting regional integration and implementing robust international development policies.
Martinique has taken a historic step to enter a new era of diplomatic relations for France in the region. By fostering new international relations, Martinique will be able to develop a basis for new economic development.
As a result, the role of the French Overseas Department in the Americas takes on a new dimension with real prospects for cross-border economic and political exchanges, based on reciprocity, solidarity and partnership at a level playing field, without constraints or restrictions between neighbouring countries.
These important changes for regional development are underlined by the campaign "La Martinique, Carrefour de la Caraïbe" ('Martinique, at the Crossroads of the Caribbean'), as Martinique is hosting or has hosted between October 2013 and January 2014 the following major events:
– Caribbean Tourism Organization's State of the Industry Conference (SOTIC 2013), October 16 – 18, 2013
– All 4 One Caribbean Song contest, October 21, 2013
– Caribbean Conference on Energy Transition (CTEC 2013), October 22 – 23, 2013
– Agricultural show of Martinique, November 15 -17, 2013
– International Biennial of Contemporary Art in Martinique, November 22, 2013 to January 15, 2014
– International Investment Conference of Martinique, November 25 – 26, 2013
– 1st International Book Fair of Martinique, December 5 – 8, 2013
– 1st Diaspora Forum, December 9 – 10, 2013
For further information, visit the relevant sections of the official website of the Regional Council of Martinique at www.region-martinique.mq/la-martinique-carrefour-de-la-caraibe.
Source: http://www.thebahamasweekly.com/publish/caribbean-news/Caribbean_Energy_Transition_In_The_Spotlight_In_Martinique31330.shtml
---
Category/ies:
News
,
Regional News
.
RSS:
RSS 2.0
Both comments and pings are currently closed.